I remember it like it was yesterday.
Walking into the CEO's office, the CFO was already sitting there waiting for me.
I couldn't believe it, after having what I believed to be our best quarter, that there is thoughts to close down our FBA department.
After spending thousands of hours building our account over 3 years I was in shock. In reality our profits were down 12% and leaving us with very little to come home with.
I was told I had 6 months to figure it out.
The clock started ticking…
The very next day I started refreshing my Amazon knowledge with youtube courses, reading articles, joined online groups. Many people pointed me towards reimbursement companies.
I worked with a some of the top providers in the space.
I did recover a few thousand dollars and was very thankful for that. However, we were still very far from turning things around.
With 3 months already behind me I decided to jump on a plane and head to the PROSPER SHOW in Vegas. I was really hoping I'd meet someone who can help me.
I remember it very clearly, Ray Berman was speaking, he kept emphasizing the same point FBA Fees… FBA Fees. He stressed the importance of monitoring and auditing Amazon's Pick&Pack fees. He said that "a handful of overcharges could single handedly be draining my company's profits."
I went into the social hall pumped to find a service provider focused on FBA FEES. After circling the entire hall without much luck, I ran into these two young guys holding two small laptops showing off their new software.
I heard one of them mention reimbursements and thought heres just another one. ….Then I hear Joe mention FBA FEEs and I almost tripped over myself.
I ran back there and immediately signed up. I told them very simply, if you can make this happen for me I will personally call every Amazon seller I know and get them to sign up.
In that same spot I emailed my warehouse to stop everything they were doing and start measuring our top 30 products. We plugged them into the system and waited…
I had such a good feeling about this, but at the same time it felt too good to be true.
After two weeks I get an email from Amazon telling me that theres a reimbursement in my account, I have this email printed and taped on the wall in my office….. $28,000 on one product. I couldn't believe it. Then the next product $10,000 recovered….This became the craze of the office.
By the end of the year we recovered over $100,000.
More importantly we set up a system to prevent overcharges like these from ever adding up to that much money. This system prevented another $120,000 in profits this year without me doing much work – and taking all the credit!
Below are a handful of some of the wackiest cases we've seen.
I have to say, this software and the team they've built are truly incredible, I can't thank Seller Locker enough and recommend anybody using FBA fulfillment to do an audit on your account to identify the leaking points.
With Amazon's new polices the windows have shortened from 18 months to just 90 days. If you don't act now you will never get this money back.
Give Joe and his team a call.
– Rich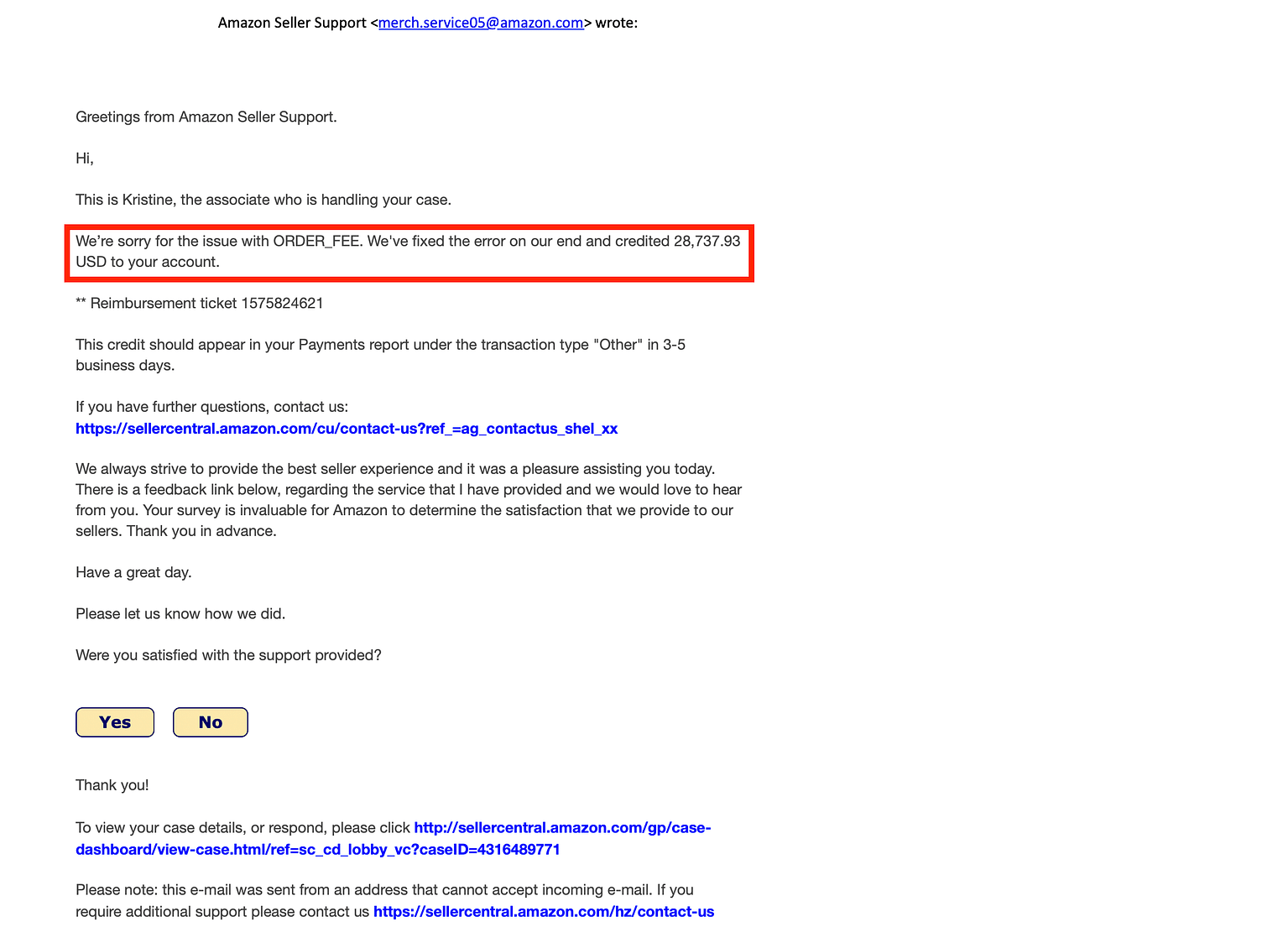 Our Past Fee Fluctuations
Right before the summer season Amazon raised our fees, luckily we caught it quick and opened a case. We even got back 3,500/5,000 owed.
Seller Locker's calculator guided us in building E-com efficient packaging. This allowed us to lower our retail price and become a BEST SELLER.
Our competitor always had the upper hand with a lower price. Lowering our fee evened the playing field and increased our sales by 8%.
With 1 click we decreased our fee by $30. Before this correction we were paying more in fees than we were for the product. Now we are actually seeing a profit.
It didn't make sense that after all our research prelaunch that we were losing money on this sku. We found that amazon was charging our FBA fees based on assembled dimensions and that there was a glitch in the system.
After noticing Amazon's very low fee we realized that at some point in transit the lids we're falling off the pot.
This powerful unit became a silent killer. Amazon was overcharging us $17.94 more than they should have been.
We've been selling this toaster for years, suddenly this item jumped by $5.79 per unit. This would have swallowed our entire profit margin.
Instead of measuring at 36 inches Amazon doubled the length to 72 inches.