FBA Seller As Business: What started off as one of the first online bookstores way back in 1994 has evolved into the most successful online store in the world. Amazon is setting the pace and leading the way online retailing works. Founder, Jeff Bezos said in an article with the Insider, the secret for Amazon's success is an 'obsessive compulsive focus' on customers over competitors. The company's customer-focused approach has paid off. Just look at the following statistics pulled from TechJury.
Amazon has over 300 million users
95 million Americans are prime members
197 million people visit Amazon every month
Nearly, two-thirds of Americans have purchased from Amazon
The statistics above are from 2019 and are pre-COVID 19. With the COVID lockdown, many Americans as well as others around the world turned to Amazon's online shopping. It quickly became a primary shopping source. Amazon's sales increased 40% and profits doubled during the second quarter of 2020. Amazon's online shopping is a dream for customers. It is also the gateway to successful entrepreneurship with its various sellers' programs: Amazon FBA, Amazon FBM, Affiliates, and Influencers.
In this article, we review the Amazon FBA program to see if it is a viable business opportunity for entrepreneurs.
What is an Amazon FBA Seller?
With Amazon's FBA seller program, you sell the products and Amazon handles all the fulfillment requirements. With Fulfillment by Amazon (FBA), you store your products in Amazon's fulfillment centers. They pick, pack, ship, and provide customer service for these products.
Amazon University and FBA Seller Support
Are you considering any business venture with a retail giant like Amazon? If so, your first step is to evaluate the level of support that is available. Amazon's introduction to sales webpage includes a wealth of information about how the programs work. They cover setting up your account, choosing a category, to pricing and advertising your business.
Amazon Seller University is a free online training center. It hosts hundreds of videos covering every topic imaginable to help Amazon FBA sellers succeed. The videos are available in the sellers' center and on YouTube.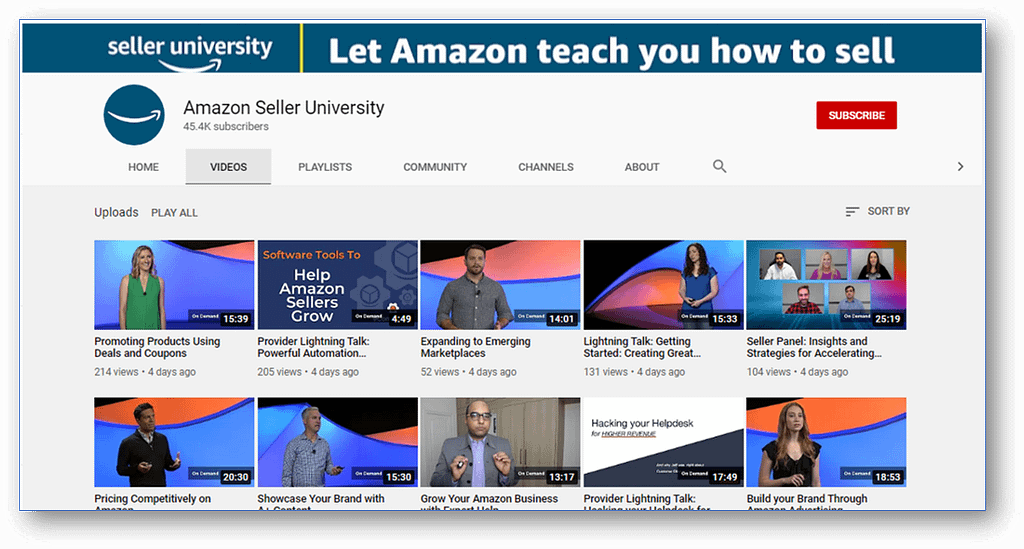 What is the competition like for sellers?
Amazon has over five million sellers across all its marketplaces worldwide. More than $1 million sellers joined Amazon in 2020. Do not let the numbers scare you away from the opportunity. While competition by the number of Amazon sellers is high, it is still very possible for new sellers to have great success. The Amazon customer review program is what sets many sellers apart from the competition. There is no direct correlation to sales volume and feedback reviews. However, sellers who ask for feedback at the right time and in the right way have maintained years of success.
The Amazon University and third-party tools and software are available to help sellers identify, track, and market against their competition.
Amazon FBA Seller Challenges
Running any kind of business comes with challenges. The design of the FBA program alleviates many common challenges such as inventory storage, packaging, shipping, and working with customers. While Amazon manages fulfillment, sellers can then focus on finding the right products to sell, researching competitors and keywords, and developing their marketing strategy.
To stay organized FBA sellers must also keep track of their inventory purchases and shipments to Amazon's fulfillment centers. They also must enter product information into their Amazon store. In 2019, Amazon was delivering 2.5 billion packages per year. In 2020, they hired 175,000 new employees to help manage the increase in business due to COVID 19. As you can imagine, the sheer volume of distribution leaves an opening for errors.
One such hidden challenge is the often-missed fee miscalculation error for Amazon FBA sellers. Every product has a specific dimension and weight. In some cases, Amazon may over-measure and over-weigh products; or even just take the average dimensions of similar products sold by other sellers.
When there is a miscalculation, your product is being charged for a larger dimension or weight size than the actual dimension and weight. As your business grows, a $1 or $2 miscalculation spanning across the hundreds or thousands of units you ship each day, week, or month, can add up quickly. If the error goes unnoticed for a long period of time, think of the revenue your company has lost.
Just as there are tools to assist sellers with marketing, there are also tools and software to assist FBA sellers with recovering fees made by Amazon errors. Seller Locker is a comprehensive, yet easy-to-use solution for FBA sellers. The solution helps Amazon FBA Sellers recover fees and increase profits by 50-80%. Learn about the many features and benefits here.
Conclusion
At the end of the day, launching a business as an Amazon FBA Seller is absolutely worth it. Not only does Amazon provide a complete University with training and tools to help you succeed, there are also high-quality third-party solutions available to help you market and manage your business.
While you're here, check out the features and benefits Seller Locker offers FBA sellers.