We provide software solutions that help

FBA sellers

reclaim money, profits and time.
Workflows are in place, leaking points are identified, taking action is easy, and a sense of control kicks in.
How to Grow your FBA Business

with Seller Locker

Every Feature

in Seller Locker
Reduce errors by catching discrepancies and mistakes as they happen. Resolve issues quickly by having everything you need in one place.
Accurate shipment information, storing documents, and recording dimensions are the driving forces behind winning reimbursement claims.
Store your Bill of Lading, Packing Slip, and Invoice for free. We'll serve it up right when you need it.
No more fumbling through emails and folders to find your documents.
Have your team store invoices, proof of delivery and bills of lading by simply texting your own seller locker number.
Integrated with Small Parcel Carriers
We integrate with all major carriers to capture the latest tracking information/proof of delivery.
Open inbound shipment cases with confidence.
Stay compliant and increase the success of your claims by verifying the units shipped before submitting a claim.
Fulfillment fees change everyday. By inputting your product dimensions we can prevent thousands in lost profits.
Import the dimensions of your products and let us do the rest. We'll go back in time and monitor for overcharges on fba fees.
The best time to upload your docs and adjust qtys are right when you ship it. Stay on top of your shipments and catch mistakes as they happen.
Wait for cases to be ready
We wait for cases to be ready so you don't have to. We'll wait 15 days for shipments to become eligible and 30 days for lost and damaged cases. Learn more about Amazon policies here.
Order sheet auto-generated
When going after overcharged fees, amazon asks for an order sheet. Save yourself the headache of finding every order and calculating every loss, we automatically create that sheet for you.
"Ever since we stumbled upon Seller locker we have been gaining back tons since! Not only were they swift with all questions, it was a pleasure to interact with their team be it threw demos, calls, or emails
With our custom generated case messages, open cases in seconds. You'll wish everything was this easy.
One Click to Submit Technology
Open claims with one click. It's that simple. All relevant information is already included.
Attachments in the right place at the right time
Order Sheets, Bills of Lading, Invoices, and Proof of Delivery exactly where you need them to be. Upload them to the case with one click.

We come up with dynamic case messages that have the full context of a case; this makes it easier for seller support to review the claim.
"Seller locker has always been on top of my account. If anything is needed they contact me immediately. The Customer Service is wonderful, it is always a pleasure to deal with Seller Locker"
Use artificial intelligence to resolve every claim. Understand messages from seller support and respond to them in one click.
Whether you were reimbursed less than what you're owed, or your claim needs to be reviewed by a supervisor, seller locker suggests the best action to take. We cover 70+ scenarios.
Understand whats going on in one line.
Ever got a long response from seller support? We did too. Use Seller Locker to summarize and explain Amazon's response in only one sentence.
Respond with the click of a button
Not in the mood to type a three paragraph response? Respond the right way every single time with one click.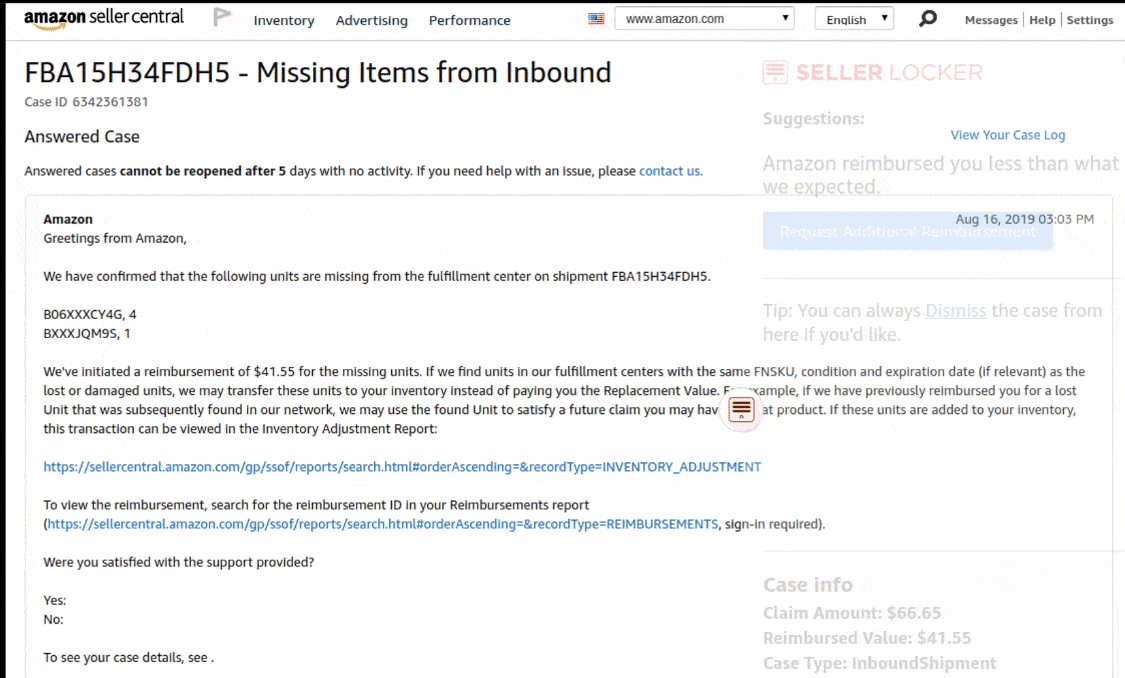 It is comforting to know I have a team to back me up when it comes to dealing with Amazon. As a small sized seller, guidance from Seller Locker has helped me stop my bleeding with reimbursements!
[elementor-template id="357"]