Fee Reimbursement Software: As an Amazon FBA Seller, your business should not absorb the costs of Amazon's mistakes.
If Amazon arrives at your client late with the delivery, that is not your fault.
If Amazon miscalculates the dimensions of your product and charges you too much for inventory storage and delivery, that is also a mistake by Amazon.
These are just two of the possible mistakes FBA sellers may encounter with their Amazon FBA Seller business. These types of mistakes are not surprising because when you are a giant retailer like Amazon and you ship millions of products every day, mistakes are inevitable. Now, add in the human element with data entry, logistics, and distribution, and the risk of errors is even greater.
The good news is Amazon will catch some of the mistakes. The bad news is they won't catch all of them. If the mistakes go uncovered for a long period of time, it could end up costing a seller a ton of money.
So, what is the best way to identify mistakes and collect refunds from Amazon? Well, you have three options: do it yourself, use an Amazon fee reimbursement software solution, or hire a service.
Here is a look at all three options.
#1 How to set up an Amazon claim on your own
At first glance, the do-it-yourself method seems like the cheapest route. That's only if you do not take into account the learning process for filing and managing a claim with Amazon. It is a complex and time-consuming process itself and even more so if the claim is denied. Multiply that by several claims and you've now got a full-time job managing claims (and you're not getting paid for it.)
Manually tracking inventory, shipments, and delivery is a time-consuming process. As a business owner, it's time you could be spending on increasing sales efforts, researching new products, and marketing your business. If you're spending time tracking mistakes and managing the Amazon claim process, you're not generating new revenue.
What many FBA Sellers quickly realize with the do-it-yourself method is they are spending too much time in the business and not enough time growing their business and increasing sales.
Amazon's Seller Central guides sellers through the refund process but finding the process you need to follow with your specific claim isn't easy. If crunching numbers, tracking paperwork, researching Amazon's policies, and writing detailed explanations isn't your forte, then this probably isn't the method for you.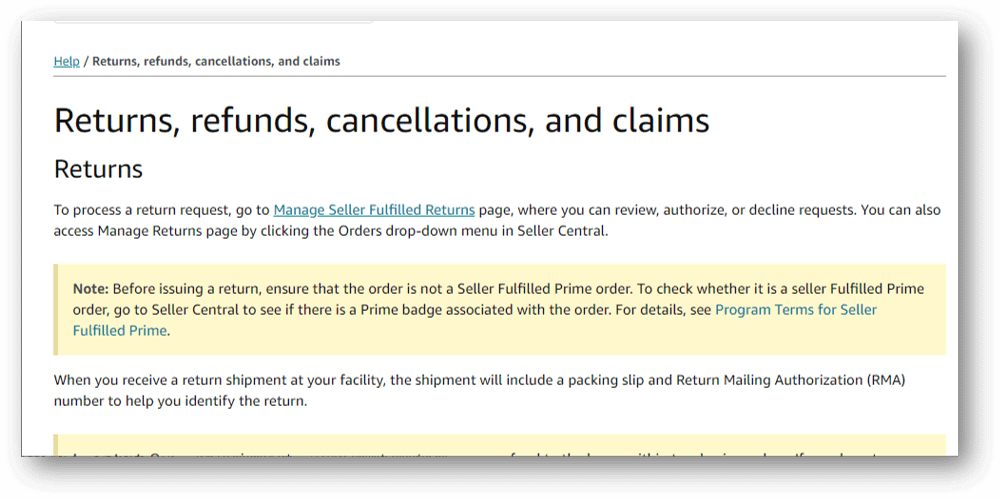 #2 How a Service company helps collect refunds for Amazon FBA Sellers
There are several service companies available to help Amazon FBA Sellers collect refunds for fee errors. These companies generally begin by conducting an account audit, then identify possible fee errors, and file claims with Amazon for you. The service company will manage the entire claims process for you. In return, you pay a 25% commission on every successful claim.
To use a service, an FBA Seller follows a few steps.
Sign up
Sync Amazon Account to Service
Account Audit
Claim Submission
Receive Reports
Get Paid
With service agencies, your success with recovering fees is only as good as the agent submitting your claim and their overall experience with Amazon.
Watch for Service Agency Mistakes!

If you use a service agency to manage your claims, ensure you fully evaluate their processes. Amazon will penalize your FBA business if the service agency you hire submits incomplete or inaccurate claims. When these types of errors occur, Amazon will close any cases opened by the service agency and any cases the agency opens for you in the future.
#3 How Amazon Fee Reimbursement Software helps FBA Sellers collect fee refunds
The final option is using an Amason Fee Reimbursement Software solution. There are several software companies with applications available to help FBA Sellers. However, not all software solutions are the same. For example, some software companies charge up to 33 percent of the amount recovered. Some are not designed to follow Amazon's policies, especially when Amazon makes an update. Finally, many only carry a seller's claim through the first claim process.
Don't forget, if a claim is denied by Amazon it doesn't mean the chance for a seller to recover fees is over. Most of the time Amazon only reimburses sellers a fraction of what they are owed, and some software companies and service agencies accept the decision and move on. This leaves a lot of your money on the table.
Not all Software companies are the same: The Seller Locker Difference
Seller Locker is a Software Solution created by former Amazon FBA Sellers. It's the only software solution approved in the Amazon Marketplace Appstore. Seller Locker software is loaded with more than 30 tools and is backed by a professional team of highly trained account managers.
The tools and automation features were built to give every seller and every case the attention they deserve.
No matter the size of your business….
Take a Look at These Seller Locker Case Studies
Last year an enterprise-level seller called Seller Locker in desperate need of a solution. They had more than 10 virtual assistants working on their accounts and had zero visibility into the status of their claims.
The seller started using the Seller Locker tools and in 10 months successfully won 8,000 claims
totaling over $800,000 in recovered fees.
As a result, the seller was able to cut his virtual staff to just one part-time VA and gained full transparency into his account.
Only Seller Locker has the solutions to re-open these cases and go back and forth with Amazon for as long as it takes to get that balance reimbursed.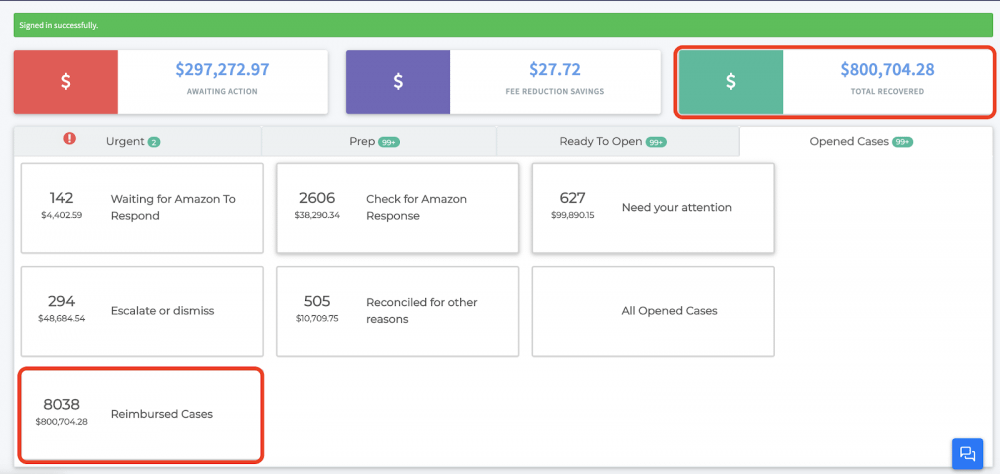 Without a system following up on your behalf, thousands of dollars are flushed away.
Check out another Seller Locker case where Amazon tried shortchanging the seller:
It took four reimbursement attempts and two months of challenging Amazon to recoup the full $30K. Most service companies and would have closed the case after the first $5800 (if they even got that much back to begin with).
Does Amazon owe your business a refund of fees? Find out in minutes. Set up your free account on Seller Locker right now.
SIGN UP TODAY! for Fee Reimbursement Software